An expressive tee that has never been made! We are so excited to introduce a remarkable new kind of T-shirt — Magitee!
With heat-sensitive dye, our designers are able to produce T-shirts with genius ideas and make them great fun to wear.
-How to have fun with it:
Magic will happen in 1~2 seconds when it is getting warm on your body, or you simply put heat source(e.g. hands) on the heat-sensitive area.
-Model Show
Color Disclaimer: Due to the limitations of monitors and photographic equipment, the colors on the screen may not be a totally accurate reproduction of the actual product.
-Fabric Detail Show:
-How it works:
After years of R&D, our chemical engineers finally invented a new dye that changes its color to transparency as temp rises, which brings numerous possibilities to the clothing industry.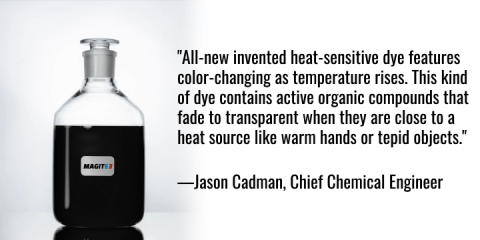 -What You'll Get:
-Magitee T-shirt × 1